Se il Presidente della Repubblica, (s)fondata sul "lavoro" che non c'è, stasera farà il discorso di fine anno, io faccio quello di eterno "ano", perché voglio perennemente sfanculare le (s)fighe "(av)venute", "date", odorate, andate, e quelle che "verranno", adesso bambine ma, crescendo, impareranno a prenderlo nel culo, sognando una miracle pop. Scopa! A terra(gna)!
Credo che questa "sauna" di attesa, di te(r)si per i festeggiamenti di mezzanotte, ecco, sian cos(c)e che avremmo già dobuto s(u)perare, adesso molte città hanno proibito perfino i botti ma non impediranno a chi vorrà sfogarsi e "sfigarsi" di andar nella notte che "vien" a bottane. Spar(atev)i, il terrorismo, le capitali bloccate in misure di sicurezza da una razz(i)a che potrebbe essere omicida. I neonati neanche nascono, madre e figlio/a muoion prima di partorire, i medici della mutua ammutoliscon tal "aborto naturale" adducendo come ca(u)sa al marito, rimasto solo e vedovo, che s'è trattato di una complicanza rarissima, che avviene ogni calendario di Stonehenge quando i celti pregan il Sole lunatico delle lupe nere, ma la gente, dopo i babb(e)i Natale con le zampogne, si darà allo zampone, per cotechini a "man basse" di lenti(cchie), un valzer di balli, brutti, belli e trenini, di troioni, tortellini e di "brindisoni" anche a Brindisi, Bar(i) con la B di "bontà" al brindiamo e c'auguriamo che l'an(n)o prossimo sarà più brillante. La sfortuna da an(n)i, "in fallo", infatti, ci perseguita. C'incula(no). Chi non sta alle regole del fascismo "progressista" della Destra, che si fa la Sinistra, vien colpito "gobbo" da tiri mancini, lo stendono con pillole sedative, insederanti per "tranquillizzarlo" e, dopo averlo rincoglionito e (in)castrato, farlo… illuder che starà "bene". Pene e pane, basta aver un (mari)tozzo e una "tetta" sotto il tetto per star calmi, no, caldi, come le brioche appena sfornate e cremose che, dopo esser state magnate da chi (non) ha fame, saran (mal) digerite da fornicazioni ben inauguranti di mutandine rosse "st(r)appate". Evviva allor la Russia, ove Putin legalizza le puttane! E, nei suo comizi, tutti e tutte sputtana.
Ma sarà an(n)o anche di Cinema, di Joy, ché non fu fortunatissimo a livello critico in quanto i recensori statunitensi si son divisi fra ammiratori e stroncatori, privilegiando invece la violenza di The Hateful Eight, ove ci si spar(l)a addosso fra razzismi, pistole(ttate), un Kurt Russell barbuto e un Tim Roth di tè "imbevuto". E il solito negro, in grassetto nero, appunto, Samuel L. Jackson.
Eppur DiCaprio vincerà forse l'Oscar per The Revenant, la storia pallosa di uno abbandonato come una comare secca al freddo e al gelo e un orso (non) polare, che vendicarsi del tor(t)o Hardy Tom vuole per ricucire le "torte" che non trova nella foresta. Dategli una Polo, si sta assiderando!
E che la forza sia con voi! Coglioni, ancora con le Star Wars a far bilioni al botteghino.
Meglio la mia "bottega", di spada laser, vi garantisco, che se ne fotte di "struscio". A(s)ma il prossimo tuo come Darth Vader.
Buon anno a te, fratello di sangue, a te, madre in calore, a me con le mie freddure.
 Un negro!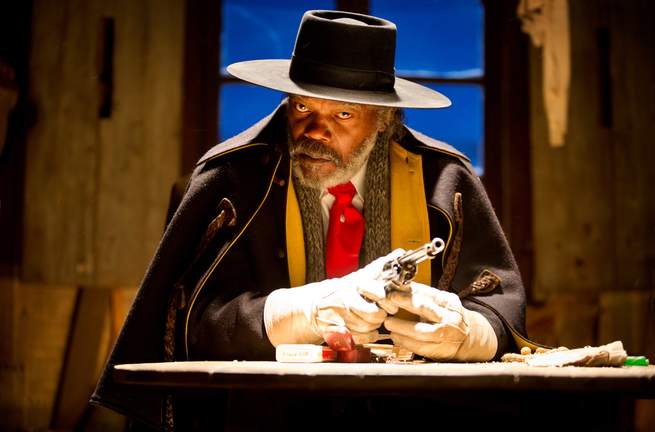 Per festeggiare, qualche mortaretto e un Negrone/i.
Firmato Quentin Tarantino, no, Clint, il profeta.
di Stefano Falotico