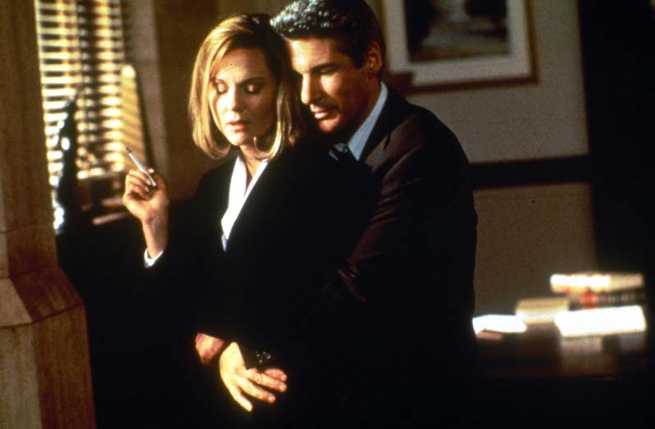 Sì, in tale periodo di quarantena, il condomino del settimo piano del mio palazzo, il signor Caggese, riguarda tutte le repliche registrate de Il commissario Montalbano.
Sua moglie fu la mia insegnante di matematica alle scuole medie. Ha un nome desueto, molto particolare. Che mi crediate o no, si chiama Delfina.
Mentre, uno dei miei guilty pleasure preferiti di sempre rimane Il commissario Lo Gatto col grande Lino Banfi.
Pura storia di detection nostrana con la bellissima Isabella Russinova, una sorta di Black Dahlia della riviera, no, dell'isola di Favignana. Ove tale donna misteriosa scomparve ma alla fine riapparve. Anche riapparse!
Lino prese così due piccioni con una fava e Isabella fu salva. Anche se, svestita così, fece venire caldo come se fossimo stati in una sauna. Anche in una savana, miei uomini da zoo.
Un Lino al massimo storico in una parte spassosa, nel suo stile, eppur anche drammatica. Diretto dal compianto Dino Risi.
Semi-capolavoro della commedia all'italiana mista al mystery thriller fatto in casa con Maurizio Ferrini nel ruolo dell'agente Gino Gridelli e uno strepitoso, sciancato, zoppo Maurizio Nicheli as l'inviato giornalista Vito Ragusa.
Film pieno di scene d'antologia fra bagnini burini più sexy di quelli di Baywatch, forse dell'altra sponda…, ragazzine minorenne un po' troppo birichine e monelle, cameriere di nome Addolorata che portano a letto la cena con tanto di colazione dopo una zuccherata eiac… ne, la signora Bellugi/Licinia Lentini nei panni dell'annoiata tennista in vacanza. Licinia, specializzata nel gioco delle palle così come lo fu col centravanti di sfondamento Speroni in un altro (s)cult con Banfi, ovvero L'allenatore nel pallone.
Speroni fu interpretato da uno col mio stesso nome, cioè Davanzati Stefano. Forse un uomo procuratore non so di cosa come il mitico Andrea Roncato/Bergonzoni.
Roncato, nato a Bologna come il suo concittadino omonimo, Alessandro Bergonzoni. Interprete, Andrea, di Margheritoni nel film Mezzo destro mezzo sinistro. Sempre con la bella Isabella.
Della serie tv L'ispettore Coliandro e anche del film Ho ammazzato Berlusconi. Io, invece, potrei essere Il signor diavolo? Sì, quando la gente (s)parla a sproposito e il pettegolezzo è lo sport preferito delle persone senza talento, scende in campo un campione. Il quale ancora si piglia spesso ammonizioni ma mai più espulsioni. Per invidia, gli danno del coglione e del bambagione, in verità vi dico che è solo un bravo guaglione.
Recensisce film con sobrietà e raffinato gusto delicato, indossando un caldo maglione ben accollato, a volte gli viene ancora il magone ma certamente ha due bei "marroni". Pensaste che fosse fregato e un disgraziato e invece non è per nulla inchiappettato. Egli svela tutte Le verità nascoste grazie al suo carisma da Harrison Ford. È un po' selvaggio quando eccede e non accetta di essere ipocritamente addomesticato ma rimane un colto Indiana Jones ancora imbattuto. Archeologo del suo passato oscuro, riemerse come Atlantide poiché è nomen omen, Joker Marino. Egli disserta sui film con classe innata, sa sdoppiarsi come Ed Norton, è carismatico e pieno di charme come Richard Gere, è più bestiale di Andy Garcia di The Unsaid.
No, di quello di The Untouchables.
Finale col botto! Senza bottane ma da American Gigolo, ah ah
Sì, per molto tempo, pensai di essere mezzo matto come Norton di Schegge di paura.
Vissi inquietudini degne di Taxi Driver. Insomma, da Paul Schrader.
Col tempo, capii di non essere né Bob De Niro né Michael Keaton di Birdman.
Sì, sono Norton dell'appena citatovi film con Keaton.
Tranquillamente, sto a fumare su una terrazza e vengo provocato da un'Emma Stone di turno.
A Emma, preferisco la Sharon Stone dei tempi d'oro.
Comunque, se continua a provocare, ci può stare lo stesso.
Vi lascio ora con un cult e con la battuta geniale di Viola Davis: è così bello, fa pensieri sconci…
Di mio, possiamo dire che, essendo ancora più battutista, se lei dice… non bisogna proprio lasciarselo scappare, io direi che non bisogna lasciarselo scopare.
Altrimenti, Birdman non torna più. Eh sì, sta con un'altra e quella se lo piglia in quel posto.
Al che, un mio amico risponde:
– Ma non scherzare. Non ci posso credere.
– Per forza, mi desti del pazzo ma non sono né matto né frocio. Però mi sa che l'hai preso in culo.
Che fai? Chiami Frances McDormand di Schegge di paura?
Bene, tanto per colpa di suo marito, il fratello Coen… se prima Frances fu brutta, a forza di stare con un intellettuale che ascolta solo Bob Dylan, avrà pure vinto due Oscar ma che cazzo se ne fa?
Ah ah.
Al che interviene un cinefilo tutto d'un pezzo:
– Ma come ti permetti? La McDormand è una grande attrice.
– Per forza, non poteva fare altro. Con quella faccia…
Ah ah.
Super fine! In ogni senso.
– Ma non ti vergogni? Ce l'hai un po' di dignità?! – urla una frigida.
Continua…
– Dove hai messo le palle? Fammele vedere!
Ho detto tutto… io smaschero tutti.
di Stefano Falotico
Insomma, come lo mettiamo? No, la mettiamo…? Ah ah.